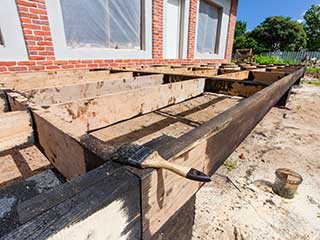 Having a swimming pool in your yard is a real treat. There's nothing like coming home to it on a hot summer's day, especially after a rough day at work. But if you own one, you also know that pool maintenance is serious business. You've got to keep the water clean and chlorinated and the surrounding areas and the deck need a lot of care as well; they are always splashed with water, either from over-zealous kids, or from outside weather. The solution to keeping your pool deck looking great and keeping maintenance to a minimum is a good waterproofing treatment.
Why Bother With Waterproofing?
The main reason to waterproof your pool deck is the constant exposure to moisture. Over time, this regular dousing of water will cause cracks to start to appear, regardless of whether your deck is made of wood or concrete. Normal water would be bad enough, but as pools need chlorine and other chemicals, the deck's gradual deterioration will be drastically accelerated. In fact, if you have a salt-water chlorinator, then your deck is probably going to find itself in serious trouble rather quickly.
Protection From All The Elements
Water damage aside, your pool deck is exposed to the elements, which means moisture in the air and other potentially damaging effects, like solar radiation. Applying your deck with a waterproofing membrane will not only protect it from moisture-related damage, but the added UV filter and cover will also protect it from sun and wind damage. The waterproofing membrane will also protect the material underneath it from organic matter such as leaves, which, when wet, can stain and seep color onto the deck. By protecting it from all those potential damage sources you'll be able to eliminate the need for constant maintenance, and spend your time doing something more relaxing, like sunbathing by your pool instead of working around it.
Different Decorative Options
By waterproofing your pool deck, you will unwittingly create more options to make this much used area more beautiful. Once the protective coating is applied, you can add a variety of textures and finishes to it, in order to create a truly beautiful oasis in your backyard. You can have a base coat of waterproofing applied in one color and then have a contrasting color applied over that one and then stone designs on top of that. If you want a really elegant look you can also have slip-resistant outdoor tiles installed over the waterproofed layer for an easy to clean surface that will look great. Contact our team at Drywall Repair & Remodeling Beverly Hills to have our experts walk you through the different options.