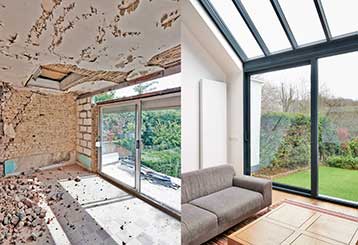 Are you thinking of selling your home? The main reasons why buyers shy away from buying a property are damaged walls and ceilings. Considering that in most cases it's relatively easy to fix drywall and ceiling damages, addressing the issue is one of the easiest ways to increase the market value of your home and prevent further problems from arising.
By leaving these issues unaddressed you are effectively telling that potential buyer that you did not pay attention to your home or maintain it properly. The bidder might ask him or herself if there are other issues around the house which stemmed from your negligence.
Consider Hiring a Professional
Hiring a professional to sort out the damage is your best way forward. Our experienced technicians at Drywall Repair & Remodeling Beverly Hills are some of the best locally and will repair your drywall damage in no time so that you can have your home picture perfect and ready for sale. You will have peace of mind knowing there is no extra work and costs for your potential buyers to worry about.
Repairs Before Selling are Rewarding
Showing the potential buyers your home was well looked after is crucial when it comes to selling your home. For example, if your kitchen ceiling has suffered from water damage and is in need of a repair, you ought to fix the issue before listing the house on sale. Even if you weren't planning on remodeling the kitchen, having the ceiling repaired will sharply boost your property's value and prove to be a great return on investment.
Mold on Drywall and Tiles
Similarly, if you're facing mold growth in your bathroom or other areas, buyers will have their concerns and wonder where else the mold has spread. Make sure you clean your bathroom tiles on a regular basis to prevent mold and mildew growth from occurring. Also, if there's mold along your drywall, inspect the problem carefully to determine the source of growth. Only once the source of moisture has been stopped can you work on removing the mold itself. Leave the issue unaddressed and you can prepare yourself for certain buyers walking away from your property.