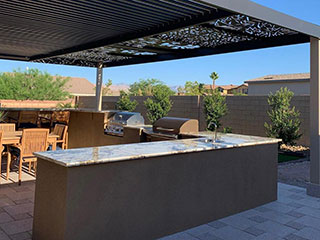 To get the most utility out of your Beverly Hills patio or deck area, consider adding an outdoor kitchen setup. The ability to not only eat outside but do the cooking out there too can add more than fancy features. It can elevate the décor of the outdoor patio deck, plus improve the atmosphere. Do you know that old saying? A family that cooks together, sticks together. Well, if you do the cooking outside, you can enjoy the fresh air while you're bonding and growing closer as a family unit.
The professional contractors here at LA Custom Decks & Shades can help with the creation of any custom-built decking or outdoor shade structures. We make motorized outdoor shades and canopies for anything from gazebos to pergolas and pavilions, which we also build in custom deck designs. Choose from real wood deck design ideas or composite options like beautiful & durable Trex. Book a free estimate on any deck or outdoor shades you're after and we'll meet you to provide in-person consultation.
Outdoor Table Tops – Stone/Wood
To eat or prepare food, you need a rigid surface. Something strong and smooth that allows you to put dishes, cutting boards, and anything else on top. Outdoor table tops exist for this very reason. Patio table tops from granite or other stone materials, let you prepare food with a stable and strong foundation. Outdoor table tops, custom-built to suit the look of your Beverly Hills patio, will also add to the décor. Stone tabletops for patios have a great elegance, even with abstract designs. The look of stone outdoor table tops isn't the only option, though. Wooden outdoor table tops can complement the design of decking, composite, or wooden. And if you don't mind a little painting maintenance, wooden outdoor table tops can flaunt a very classic charm. Combine your outdoor table tops with cabinets and your patio or deck will only benefit.
Custom-Built Cabinets For Beverly Hills Patios & Decks
Whether for excess storage space or to complement your outdoor kitchen, cabinets in your patio or deck can contribute a lot. You keep tableware and various utensils in your patio cabinets to keep you from having to go back inside to get something. From bottle openers to various containers, deck or patio cabinets can add a lot of utility to the area. You can choose wooden cabinets for outdoors, though know that they'll require more maintenance. Composite outdoor kitchen cabinets, custom-built in a design that complements your deck or patio will add aesthetic too. You can also go with outdoor kitchen cabinets with stone countertops. Thus, you can combine table tops with cabinets for full utility and functionality.
BBQ Islands With Grill Stations
For food preparation outdoors, a smooth stone BBQ island offers style and plenty of utility. The smooth surface area lets you prepare an assortment of meats, fish, or chicken to roast outside, as well as onions, peppers, and other vegetables you want to add. Combine the BBQ island for your outdoor kitchen with a grill station, and you're good to go whenever you want to. You can get water features and everything else connected and ready for you to start cooking outside as soon as the setup is finished. Find out more about our Beverly Hills outdoor kitchen builders and their wonderful designs by booking a free estimate today.