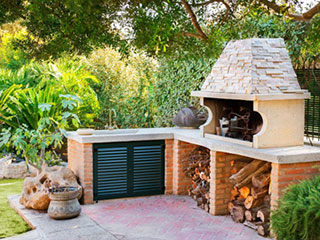 Imagine relaxing outside in your backyard sanctuary all year long. It has been a hectic week and now all your family wants to do is enjoy the outdoors. Imagine having the comfort of outdoor heating with a fire pit a brick/paver patio fireplace. Freestanding or built-in fire pits can be incorporated into your patio or pool area, giving you a cozy way of enjoying the night even if it gets a little chilly. Even on those colder nights, a beautifully designed wood pit or fire pit table can turn those chilly nights into a warm and comfortable night. Custom built by our Beverly Hills contractors will make that patio fireplace or even outdoor fireplace with gas that some find much more enticing. Watching the flicker of the flame from a propane fire pit soothes the senses and can help lull you into relaxation.
Fire Pits - Wood or Propane
The aesthetic of outdoor heating sources like fire pits often become very popular adornments in patios and decks. Your backyard can be your sanctuary at any time of the year. Wood and propane fire pits come in different builds, depending on your needs and desires. Using quality materials to match your style is what we do best. The ease of a propane fire pit is enticing to people but there is nothing better than the aromatic odors of a natural wood fire pit. Whether it is wood, propane, or other options, there is a style to match your needs. Our local Beverly Hills outdoor fire pit specialists can help you decide and customize the builds you want with a free in-person estimate. From brick fire pits to pavers and stone molds, you've got a great range of options.
Outdoor Fireplaces – Gas or Wood
Create that perfect outdoor fireplace to match your lifestyle. Roasting marshmallows has always been a favorite for children and adults alike. The warmth and aroma from a patio fireplace are relaxing and pleasing. But if you don't want the hassle of digging around and creating a mess, an outdoor gas fireplace is perfect for you. Our Beverly Hills outdoor heating contractors are happy to provide free quotes that will pleasantly surprise you. We can discuss different outdoor fireplaces to find the perfect setup for your budget and needs. With outdoor fireplaces, it's important to find something that meets all your criteria. Safety, aesthetic, and of course – utility. These are all factors our custom-built outdoor fireplaces can provide to your business or home.
Outdoor Heating For Beverly Hills Area Backyards
You've got all sorts of new, sophisticated ways to add outdoor heating to Beverly Hills patios, decks, and other outdoor areas. Enjoy your backyard all year long with a specially designed fire pit table or an outdoor fireplace. Most people have never imagined outdoor heating to be so creative and fun. Outdoor fire pits are wonderful in the summer-time while you listen to the sound of crickets and it helps drive away any mosquitos you might have. But our outdoor fireplaces are functional in the winter as well. They can be free-standing or built into your patio or deck area. Unique designs with help from our professionals will help you create that perfect backyard design you've always wanted.